Dance
Subject Overview:
KS3 Dance enables students to explore a variety of different skills, stylistic qualities, and choreographic devices. In year 7, students will complete a 6-week unit of work with an emphasis on performing. The majority of this unit will be teacher led to provide students with a foundation of knowledge. As students move into year 8 and year 9, they will develop their own routines utilising their toolkit gained in year 7. Students will study how to interpret music with dance skills and evaluate their performances in more detail.
Students are given the option to study Dance as a short course in year 9. If they choose this course they will take part in two Dance lessons a week, exploring a range of themes including Jazz, technique phrases, effective rehearsal, use of props and creating performances. The short course provides an excellent steppingstone into studying BTEC 1/2 Tech Award in Dance in year 10.
Assessment Information – KS3
Students will be assessed at the end of their dance unit in the following areas:
Hands: Assessed on their practical ability and application of skills.
Head: Assessed in their knowledge of skills, tactics, rules and regulations.
Heart: Assessed in leadership, interpersonal skills, effort and engagement.
Students are encouraged to attend the Dance extracurricular club in order to further develop their skills, motifs and knowledge of choreography.
Assessment Information – KS4
If students decide to choose BTEC Dance as an option they will have three assessments over the course of Year 10 and Year 11.
Components 1 and 2 are assessed through non-exam internal assessment. These assessments involve students writing a response to a brief in a controlled assessment. The method of assessment for these components range from written skill logs, rehearsal process and practical assessments.
Component 3 is an external assessment which builds directly on Components 1 and 2 and enables learning to be brought together and related to a real-life situation.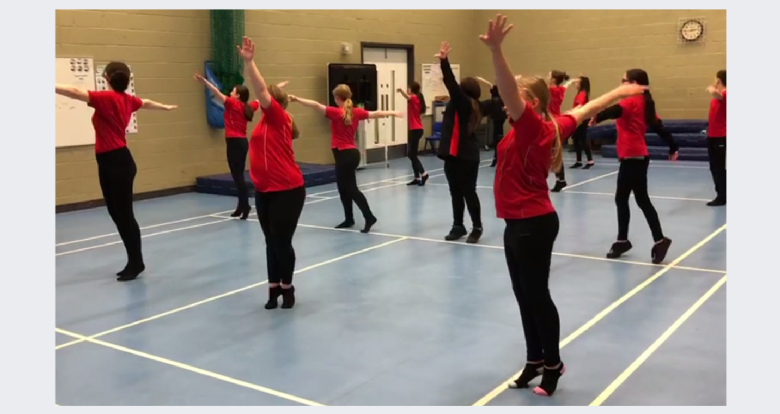 "I love dance because you can express yourself in many ways and explore your emotions. We also get the chance to study different themes and study different aspects of dance."